Sicuramente la nuova campagna pubblicitaria The Lost Ring di McDonald's è un grande cambiamento di stile ed immagine.
The Lost Ring è un ARG, alternate reality game, ideato dall'agenzia di marketing interattivo AKQA, insieme alla nota game designer Jane McGonigal, per la campagna di McDonald's per le Olimpiadi 2008.
Creato in collaborazione al Comitato Olimpico Internazionale, The Lost Ring invita giocatori del mondo intero a unire le forze online e nel mondo reale, insieme indagheranno misteri dimenticati e leggende urbane dei giochi antichi.
Per la campagna pubblicitaria sono stati prodotti dalla PostPanic di Amsterdam cinque trailer che ricordano film o serie di fantascienza, con scene di girato, motion graphics e 3D.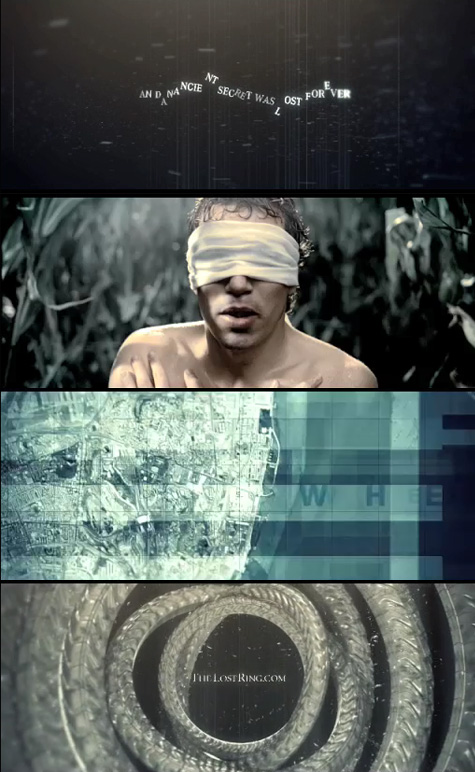 Agency: AKQA, San Francisco
Executive Creative Director: PJ Pereira
Creative Director: Toria Emery
Producer: Nancy Cardillo
Production Company: PostPanic, Amsterdam
Director: Mischa Rozema
Director of Photography: Sebastian Pfaffenbichler
Executive Producers: Ania Markham, Jules Tervoort
Technical Director: Jules Tervoort
3d Supervisor: Ivor Goldberg
Producers: Annejes van Liempd, Pascale Fabery de Jonge
Music & Sound design: Massive Music, Amsterdam
Mixes & Final Sound: Kaiser Sound Studios, Amsterdam
Line Production: Soul Kitchen, Portugal
Editors: Michael Horvers, Kim Hinrichs
Motion Designer: Kevin Walenciak
3d: Jeroen Aerts, Tim van der Wiel
Matte Painters: Levente Peterffy, Andreas Rocha
Opening Titles & Supers: Joost Korngold
Grading: Robert Thomas @ The Ambassadors
Articolo redatto da Sergio Damele